Judy Abad is a Partner at Abad Capital, the family-run venture firm fueling next-gen tech. Their portfolio spans names like Mercury, Treinta, Payflow, Blue Bottle Coffee, and more. 
She was also an early hire and held leadership roles at Facebook, Instagram, Slack, and WhatsApp. We sat down with Judy to dive into her unique insights as an operator-investor, covering topics like: 
Why investors should claim less credit for startup success

Knowing when to bring in support from external advisors

How to embrace uncertainty through career transitions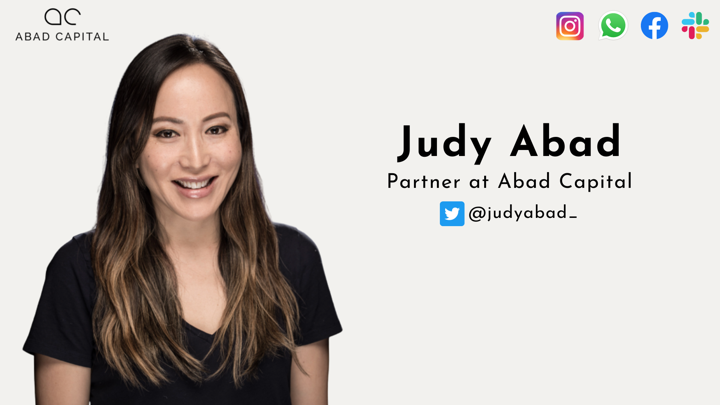 "Having been on the other side of the table as an operator and exec, I've learned to be very humble in my approach to investments and assisting founders." 
Investors are here to uplift founders — not claim credit
Abad Capital is a family-run operation, meaning Judy has split her deal flow with her husband Pablo, a product leader at Waymo, for the last 7+ years. 
Pablo is an exited solo founder himself, while (on top of her impressive tech resumé) Judy most recently led GTM and biz ops at Tome, helping lead the company from seed to Series A. 
Considering her career at a glance, she reflects: "Deep down, I know I'm an operator at heart. Abad Capital is an opportunity for me to build something from scratch in a new field, investing, while doing what I love best - helping founders grow their companies. " 
The benefits of knowing both sides of the table
That intimate knowledge from both parties of the day-to-day execution and startup hustle is partly responsible for their investment success to date. 
Having been on the other side of the table, they realize that, at the end of the day, if one of their investments takes off, that credit goes to the founder and team on the ground. 
She reminds investors to keep our egos in check and remember that we're ultimately here to:
Encourage, assist, and efficiently guide founders and their teams in any way possible

Give them a wide berth to make their own mistakes (because no one gets it right the first time — or even the second)
What we're not here to do is claim credit for daily efforts (and victories) that aren't ours. 
"It is so important for investors to always remember to keep their egos in check. You're ultimately here to serve and support the founders you've backed." 
Judy's angel playbook: Play to your passions & rely on your network
While Pablo's at his day job, Judy runs most of their full-time sourcing and due diligence workflows, though they'll arrive at deal decisions together. 
The average check from Abad Capital ranges from $25,000–50,000, while the team takes a loose approach to industries, mainly playing to their strengths and passions: 
Judy handles numerous SaaS and consumer deals

Pablo, who has a robotics PhD from Caltech, works with AI and ML

Both deliberate on their climate tech, fintech, and vertical SaaS opportunities
Ultimately, they seek out venture teams who spark their curiosity and can convince them their time, effort, and funds will result in a tangible impact at scale. 
Post-investment: Support your founders however you can
After cutting the check, Judy generally tells founders that Abad Capital works to generate the highest possible return for their company. 
That can look like simply leaving them alone so they can focus on actually building the startup, rather than sending daily updates or telling them where every cent of the money is going. 
It can also look like Judy providing guidance (based on firsthand experience) wherever she's fit to — typically monetization, ops, and GTM. For instance: 
Hiring

— She's currently advising the

Lang.ai

team on sourcing candidates and interviewing alongside the founders as they hire their first PM. 

Marketing

— She's also helping

Yalo

elevate their marketing and positioning. 

Customer / candidate intros – She's eager to tap into her network to help founders find the right people to work with them or the right companies to pitch their products to
On the other end, Pablo provides deep expertise on product, fundraising, and CEO coaching. 
When should you bring in the experts? 
Of course, a major component of the investor's job description is knowing when a topic is above your pay grade and bringing in the best possible external support for your investment.
Judy emphasizes always being forthright about when your advice or knowledge is non-expert. 
Having worked everywhere from WhatsApp to Instagram, she's built up a network of true pros across countless verticals and categories, and she can call on them whenever necessary. 
For instance, she most recently connected the team at Dive Chat, a Hustle Fund investment, with a former consumer product leader at Instagram to jam on the social messaging space. 
"I ask if the founder is an outlier. Are they super passionate? Do they have unique insights? Do they have the grit and tenacity to work at something and do it really well for a long period of time?" 
Results come from showing up & doing the work
Like many young upstarts and execs in the tech world, Judy started off in the space with rigid plans for nailing specific accomplishments by a certain age or year. 
Yet, since pivoting to angel investing and building Abad Capital full-time, she's been able to embrace flexibility and allow her curiosity and work to guide where she focuses her time 
These days, rather than channeling all her energy into hitting specific career benchmarks, she's dedicated to honoring her core principles which make her great at what she does, whether that's operating or investing. 
Ultimately, she strives to work hard, give all efforts 100%, and deliver results while being kind and treating people well. This is her ethos for every founder she meets and check she signs. 
"Whether I'm operating or investing, I have my core principles: I'll always work hard and try my best. I'll deliver results while being kind and treating people well."
---