Landon Campbell is the Founder of inTheir20s, the podcast where leaders like Steve Wozniak, Beto O'Rourke, Mark Suster, and many more discuss their lives during their twenties. 
He previously headed up events strategy at Inside.com, an entrepreneurial news and community site founded by Jason Calacanis, and produced and hosted their Venturing in VC podcast. 
In the first piece of this three-part series, we sat down with Landon to dive deep on how execs and operators can connect their current work with angel investing.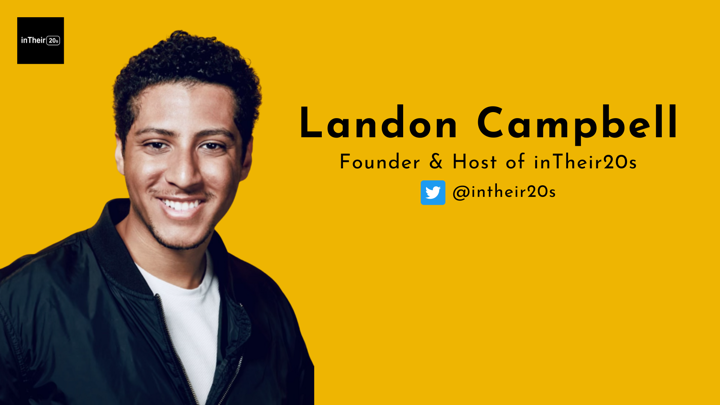 "By publicly building my shows and content, I've seen a lot of company outreach and secured a lot of deals. My buildup toward investing happened organically." 
How to successfully integrate your day job and angel investing
Before diving headfirst into investing with Angel Squad, Landon mainly juggled his two 9-to-5s — both already adjacent to the founder and VC realms. 
1. Podcasting
Through inTheir20s and Venturing in VC, he regularly speaks to influential founders and investors alike on their early career phases or how they ventured into their respective spaces. 
While he was firmly on the creative and production end, Landon absorbed as much knowledge as he could through those conversations — and built his network all the while. 
2. Hosting events
As a former exec with Inside, he worked alongside Founder and CEO Jason Calacanis — best known for leading The Syndicate, an angel investing club and Sequoia Capital's first Scout. 
In that role, Landon led Inside's events and summits across VC, crypto, growth and sales, dev, and more, which put him in a community with countless founders, operators, and investors.
3. Layering on investing
Since joining Angel Squad, Landon credits the broader Hustle Fund community with expanding his skill sets, industry know-how, and network through instruction and hands-on exposure. 
He also does similar work and marketing advising for the Black Venture Capital Consortium, allowing him to bridge the power of community with investing. 
"Through podcasting, I learned from so many VCs. Angel Squad was the next step. I've been fortunate to build my skills and network with this community." 
Curious about angel investing? Join us.
Why creators should leverage their content platforms to invest
The interplay between media and venture has been Landon's clearest throughway to investing, having sourced a solid amount of high-quality deal flow simply through podcasting. 
He attributes this to two factors: 
Network Amplification

— Through the combined reach of inTheir20s, Venturing in VC, and the shows' guests, people know the kinds of rooms Landon has scored a spot in. 

Adding Value to the Space

— Landon is also public about his interest in and knowledge of these spaces, sharing sharp insights and quotes from his interview guests. 
From there, listeners throughout his personal network plus his guests' networks have watched him grow more and more deeply connected and knowledgeable about the industry. 
In his own words: "I now know the ins and outs of a lot of these huge firms." 
On the other side of the table, he's become an advocate for founders. If he's not angel investing himself, Landon is staging intros between impressive startups and his VC connections. 
"I fell into this intersection of media, content, and venture almost by accident. Now, I get a ton of high-quality deal flow through my shows." 
Two ways to blend angel investing into your next career move
If you're an operator, exec, or someone else looking to pivot to full-time investing, Landon recommends the following two distinct steps.
1. Share your work and passions publicly
When it comes to his work and identities, Landon is open to the public: He's a member of Gen Z, a classic 20-something, and a part of the creator economy and gig economy. 
That means he's vocal about these experiences (i.e., his life as a podcaster or time as a gig worker) and keeps his pulse on the space to share insights and highlight influential trends. 
For instance, inTheir20s includes a segment on three weekly topics Landon and fellow 20-somethings should be following — from Roe v. Wade to trends within the Metaverse. 
These are intentional and strategic moves, and hosting inTheir20s has helped Landon: 
Expand his network and reach

Build a cohesive and unique (but relatable) brand

Connect with other Gen Z'ers with similar passions in similar spaces
The same goes for Venturing in VC: He's been able to form numerous influential connections, granting him access to deep domain expertise on how VCs operate. 
If you hope to be an investor but you're not publicly participating in the space (or your investment areas of interest), you're closing yourself off to tons of vital connections. Landon has shared his experience building a brand with Angel Squad through a Squad Talk, a program designed for members to share their insights within the community.
2. Turn you interests into investment opportunities
Landon's next podcast will focus on Gen-Z founders, particularly those building within the creator or gig economies. This will enable him to: 
Keep building credibility and connections with Gen-Z founders

Showcase and spotlight these individuals and startups

Make intros with firms interested in these spaces
Ultimately, he'll only continue to follow this trajectory of marrying media, creative, and investing in his generation — with the help of Angel Squad. As Landon puts it: 
"All of this will help me be that podcaster who, one day, broke into VC and made it make sense." 
"If you're unwilling to let the public know about your passions, you won't meet other people within that space or score those potentially valuable intros."