Landon Campbell is the Founder of inTheir20s, the podcast where leaders like Steve Wozniak, Beto O'Rourke, Mark Suster, and many more discuss their lives during their twenties. 
He previously headed up events strategy at Inside.com, an entrepreneurial news and community site founded by Jason Calacanis, and produced and hosted their Venturing in VC podcast. 
In the final piece of this three-part series, we sat down with Landon to explore how execs and operators leverage their career backgrounds as their unique value-add in investing.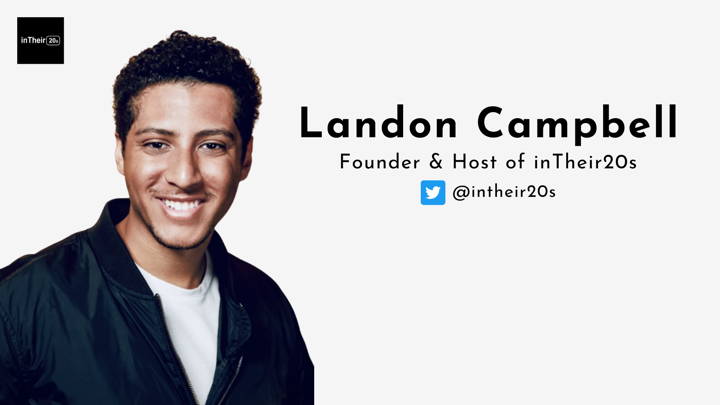 "Founders have tons of options: bootstrapping, private equity, countless VCs. Defining your unique value-add among that mix becomes essential."
Why angels need to clearly communicate their value-add
In today's ecosystem, founders have plenty of fundraising options to choose from — whether that's bootstrapping, crowdfunding, private equity, or, of course, venture capital. 
Even if they go the VC route, countless firms could meet their needs. 
As such, Landon has made it a priority to not only build his fundamental skills through Angel Squad, but to also identify and define his unique value-add as an investor. The average startup might shoot for the traditional firm with partners who have collective decades in the industry. 
However, in interviewing VCs from so many walks of life for his podcast, Landon can affirm that most provide an entirely different draw from the typical Silicon Valley resumé. 
He points to the story of Pejman Nozad, the Founding Managing Partner of Pear VC: 
He left Iran in the 1980s

Became a rug dealer in Palo Alto

Never graduated college or worked in tech

Wound up starting a firm valued in the billions
"Many folks enter VC without an MBA or a tech operator background. But they bring other unique experiences that translate to unique value-add for founders."
Curious about career paths that intersect with angel investing? Join us.
How to win angel deals by distilling and crafting your story
Landon recommends the following two steps to start sussing out what makes you unique as an operator, an exec, and, now, an investor.
First, don't strive to be number one in one space. And second, examine where your history, skills, and interests intersect with market opportunities. Let's unpack each of these in isolation.
1. Develop expertise across multiple disciplines 
We're often taught early on that being at the very top of your field is the endgame. 
Instead, Landon posits the following: "Rather than aiming to be the 1% in one crowded space, why not shoot for the top 20% in three unique spaces?" 
Eventually, you'll have combined your 2​​–3 niches and specialties in such a unique way that you're truly the only one doing it. 
For Landon, he built his expertises in podcasting, media, professional development, and venture separately — but they've all thrived because they're strategically well-connected. 
In his words: "It's chess, not checkers. My biggest tip for young people in the industry is to draw connections between your different work and projects as early as possible." 
2. Align your value with unique market opportunities
Your unique value-add to founders can be understood as where your specific background, skills, and interests intersect with market opportunities. 
For Landon, that currently looks like advising founding teams on how to craft their brand stories and media practices. This hits both points of the equation: 
He brings his domain expertise in podcasting, media, etc. to the table

He meets an opportunity in his market of choice: early-stage founders
He also knows there's more work to be done with Angel Squad to keep evolving and fine-tuning what's essentially his investor value prop for founders. 
But, once you've nailed your unique value-add, there'll be little disconnect between: 
The kinds of work you love to do

What you're capable of providing to founders

Meeting your investments' needs as effectively as possible
"If you can't explicitly communicate how you'll be helpful to a founder, they won't trust you to help them grow their business."
Want to work with and invest in early stage founders? Join us.