Landon Campbell is the Founder of inTheir20s, the podcast where leaders like Steve Wozniak, Beto O'Rourke, Mark Suster, and many more discuss their lives during their twenties. 
He previously headed up events strategy at Inside.com, an entrepreneurial news and community site founded by Jason Calacanis, and produced and hosted their Venturing in VC podcast. 
In the second piece of this three-part series, we sat down with Landon to jam on the value of an investor's community and how Angel Squad helps him live his personal MBA experience.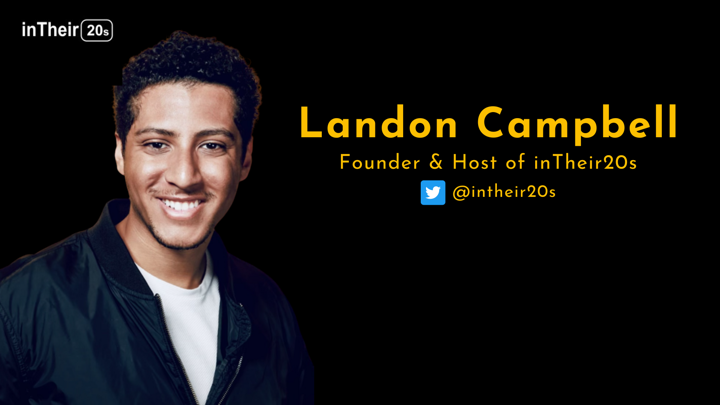 "It's crucial to be part of something great like Angel Squad. I'm a huge believer in community. I could rave about the Hustle Fund community for a long time." 
Angel Investing 101: How to build your personal MBA program
While Landon's already gained firsthand experience with sourcing and deal flow, he has little traditional training on deal assessment, due diligence, etc. 
It's also no secret that getting trained via an MBA (a common pathway for VCs) isn't an accessible opportunity for everyone. 
So, to create a cohesive, MBA-level learning experience — whether by yourself or with the help of a network like Angel Squad — he recommends the following steps. 
1. Collect intel and do your research
Do as much listening to podcasts and reading of Medium articles, newsletters, or VC memoirs as you can to gather knowledge on the industry and the act of investing. 
For Landon, regularly speaking with leading founders and investors on his podcasts has easily equated to the insights one could gain from professors at an MBA program. 
Along those lines, make sure you surround yourself and dialogue with smart people. 
For instance, he highlights his conversations with and feedback from Haley Bryant, one of our Venture Partners at Hustle Fund, as a highly informative source. 
2. Do the work before you have the job
Beyond having the know-how, Landon emphasizes doing the work — well before you've even gotten the job. For him, this looks like: 
Speaking to founders

— Landon speaks to founders daily to aid their professional dev, storytelling, and media practices and to occasionally connect them to VCs. 

Practicing skills

— For instance, he practices writing investment memos that ultimately aren't shared with anybody. It's simply to sharpen his skill set. 

Scoping out the industry

— He keeps tabs on big markets (i.e., fintech, web3, ​​healthtech) and dialogues with their leading founders, even if they're not his target categories. 
He admits it can be difficult work, especially if you're not compensated for all your time. 
But every conversation ups his skill and experience levels, and he's been able to diversify his info streams and learn significant amounts in a short time. 
3. Lean on a community of fellow angels 
It's hard enough to break into VC on your own. If you're trying to do so, Landon affirms it's critical to find yourself a community of fellow investors. For him, that's been Angel Squad. 
On one hand, you have a cohort to support you along your learning curve, career change, etc. 
On the other, you're constantly exposed to people with deeper investing insights than you or with insights on entirely different industries, startup functions, user profiles, and more. 
"I'm creating my own unofficial MBA experience by speaking with founders through my personal network or Angel Squad pretty much every day." 
Curious about angel investing? Join us.
How Angel Squad helped bridge the community white space
In Landon's words, he's very dependent on his investor community — specifically through Angel Squad — for one key reason: They significantly expand his understanding of the industry. 
Landon is a huge believer in Alexis Ohanian's concept of the minimum viable community. More and more investors are beginning to realize its importance. 
In an industry where deals are largely influenced by investors' opinions or hunches, it's pivotal to take in the (often conflicting) opinions of your trusted community members. 
For instance, he's been tracking and analyzing the trajectories of various tech trends, from social apps like BeReal to eCommerce plays in the Metaverse. 
Whether it's through community posts or one-on-one sessions, speaking to other Angel Squad members will inevitably complicate and enrich his analyses — since they provide: 
Independent research findings

Broader contexts of the industry

Opinions from varying user demos
In other words, Landon can rely on the Angel Squad community to diversify his pool of opinions on a company before making a final call — which is the name of the game for investors. 
"To any

20

-something or any person at all trying to break into VC: Find and utilize helpful communities like Angel Squad that you can be a part of."
Want to work with and invest in early stage founders? Join us.