Today's edition of Small Bets is a guest post by Hustle Fund friend Will McKelvey, co-founder of Courtyard Ventures, a $1.7 million student-run venture fund at UC Berkeley that invests in pre-seed Cal startups.
A few weeks ago Will attended Camp Hustle – our investor event among the trees in Northern California. 
At Camp Hustle, one speaker shared something that stuck with Will and resulted in Will going down a rabbit hole. 
---
I recently had the pleasure of attending Camp Hustle, a two-day oasis that brought together founders and investors for some much-needed bonding time. 
The speaker line-up was full of stand-outs, but one speaker – Charles Hudson of Precursor VC – shared something that stuck with me: 70% of his nearly 300 portfolio companies are women-led. 
To say that this stat is an outlier is an understatement. 
In 2021, just 17.2% of all venture capital invested went to startups with women on their founding teams, and women hold fewer than 10% of decision-making positions at venture firms. In an industry that prides itself on innovation, much of venture capital is still an old boys club.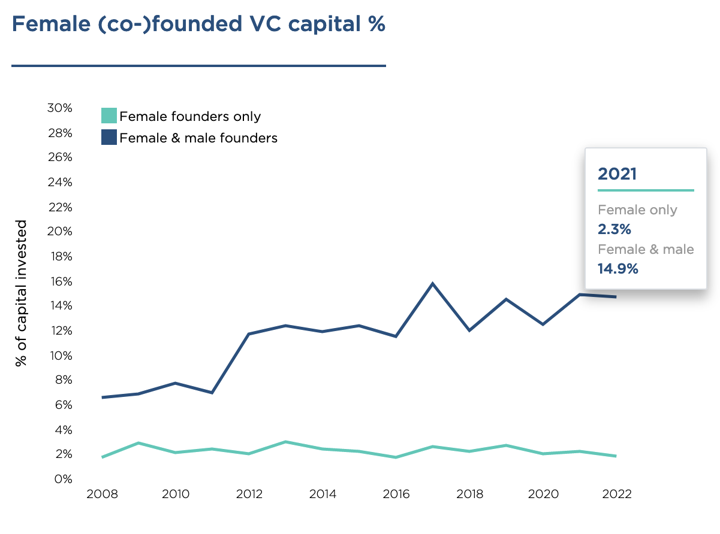 Source: Pitchbook
Access to startup capital is not the only place where the U.S. has fallen short. 
Just two weeks after Camp concluded, the U.S. Supreme Court overturned Roe v. Wade, abolishing the right to abortion in the United States. Almost immediately, states across the country began limiting women's access to health care. 
As someone who supports women's rights, this got me thinking: how can the startup and VC industries – which are uniquely positioned to push the boundary of possibility – lift up women in this time of crisis?
How can we as investors and people do better?
Let's make some predictions…
The Supreme Court's decision will likely accelerate existing trends in the telehealth space, particularly around reproductive health. 
Companies that deliver birth control by mail – like Favor (a Hustle Fund portfolio company), 28Health, and Nurx – will likely see an influx of resources and customers.
Younger startups like Choix and Hey Jane that send patients medication for abortions will probably also see a spike in growth.
We could even see a rise in startups aiming to decipher confusing and dense legalese for consumers who historically skimmed over companies' privacy policies.
That said, conservative states could also prohibit some women's health companies from operating within their borders. This will necessitate new ideas like:
travel services that can cheaply and quickly bring women to states that still allow abortion care

subscription services to send women monthly pregnancy tests to ensure that any unplanned pregnancies are detected within the legal window for states with six- or eight-week abortion bans

apps supporting body literacy, hormone health, and fertility education
Elana Berkowitz is the Managing Partner at Springbank Collective, an early-stage fund focused on investing in solutions for women and working families. She told me: 
"There's an opportunity here. For companies like Hey Jane, their legal liability has gone up a ton, but I've talked to many respected VCs and angels who are newly enraged and inspired to take some of those risks." 
Women's health startups could soon face 50 different regulatory structures. If that's the case, they're going to need all the help they can get. 
Luckily for investors, there's a lot of room to grow. In 2021, startups addressing women's needs attracted only 7% of total digital health venture funding.
This will affect startup employees
Over the last few years, and especially in light of the "work from anywhere" culture brought on by Covid, startup employees have begun leaving Silicon Valley en masse.
They've relocated to trendy cities within historically conservative states, like Austin, Atlanta, and Nashville.
But a young person looking to relocate to a new city isn't just looking for the cool factor. They're also looking for safety, security, and peace. 
Access to birth control and health care will play a part in their decision, and startup hubs around the country could very well pay the price.
So what can you do? 
As a startup investor, you can make more of an effort to broaden your portfolio. 
Take more meetings with female founders and dig deeper into startups addressing women's issues, health or otherwise. 
To make it even easier, you can join a female-focused syndicate (there are many on AngelList), which will deliver you the best women-led deals and teams. 
You can also take intangible steps, like mentoring at a female-focused accelerator or talking with successful female founders about emerging startups they're excited about. 
If you're really inspired, why not host an event where female founders can pitch to a group of investors who are passionate about supporting this community?
Ultimately, what you do matters less than whether you do something or not. In times of crisis, especially those created by our misguided elected (or lifetime-appointed) leaders, it's important that we take action. 
Women deserve better.
---
Will McKelvey is an investor, MBA student at U.C. Berkeley Haas, and former healthcare and economic policy advisor in the U.S. Congress. At Berkeley, he co-founded Courtyard Ventures, a pre-seed fund backing startups coming out of the Cal ecosystem. Follow him on Twitter @will_mckelvey, read his newsletter on startups in the Midwest, or reach out via email: wmckelvey13 (at) gmail.