Adam Spector is the Founder and CEO at levy, the back-office, HR, compliance, and finance team for startups. They run your operations so your team can focus on building product and winning customers. 
levy is Adam's fourth business on top of the 100+ startups he's invested in during his career in Silicon Valley. Previously, Adam served as Co-Founder and COO of AbstractOps, a platform unifying and automating back-office workflows, and remains as a Board Observer today.
For the second piece of this three-part series, we sat down with Adam to dive deep on how being a founder-investor drives success for him on both sides of the table.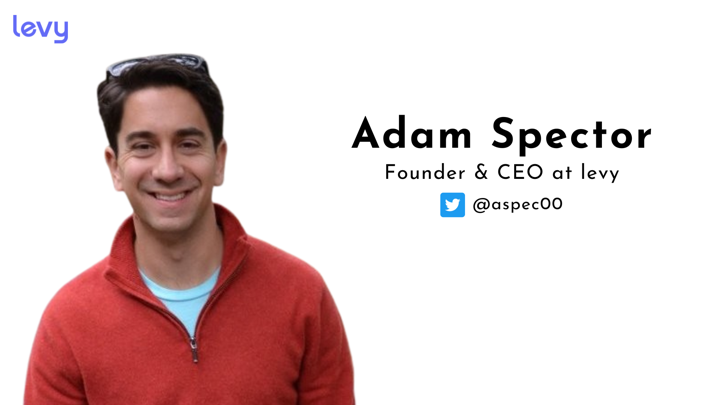 "Part of my success as an investor is that I can sit down with founders, as a fellow founder, and have transparent, meaningful conversations." 
Why founder storytelling is essential for raising capital
Having invested in startups for the past decade, Adam leverages that knowledge when fundraising for AbstractOps to predict and prep for the usual questions from VCs and angels. 
He'll ask himself, "Am I saying what I'd want to hear as an investor?" This means walking into the pitch with a clear grasp of: 
What kind of numbers the investor will want to see

What they'll need to know about your startup's future

How to tell a captivating story that explains a viable solution
On that last point, he notes that too many founders are so engrossed in building their product that they don't listen to valuable fundraising advice and even neglect to practice their pitches. 
It's a completely understandable instinct. But it's also the founder's responsibility to build their fundraising muscle so they can package their company's value for investors. 
In other words: No product is so great that it doesn't require concise, thoughtful storytelling. 
"Founders are understandably deep in the weeds of their product. But it's also your job to exercise the totally separate muscle of storytelling and fundraising." 
Investing criteria: how to accurately assess early-stage deals
Adam's best investments have all started out with a candid one-on-one with the founder. It's not a fundraising pitch, but rather a chance for him to ask vital questions about the business. 
For instance, perhaps the most telling question he poses is, "Why are you passionate about the problem you're solving?" 
Because he's also an entrepreneur (as opposed to a typical investor), founders tend to open up more, speaking transparently about motivations, growth trajectory, and needs and pain points. 
Compounding advantages of investing in startups as a founder
By fostering a sense of transparency between two founders, Adam welcomes potential investments to drop any pretenses of trying to sell themselves as the perfect startup. 
This opens the dialogue wide up, allowing him to: 
Consider the larger market

— Is the market ripe for this company? Is Adam convinced of how and why this need exists? Is this a burning issue that must be solved? 

Evaluate the founder

— If the issue exists, are they the right person to solve it? Are they truly passionate? Are they thinking in depth about potential blockers in their space? 
A straightforward conversation can uncover all of these answers, which then enable investors to make the most accurate, well-informed assessment possible. 
BetterUp: A case study in no-bullshit founder-investor dynamics
It was a simple conversation that convinced Adam to take a chance on BetterUp, the corporate coaching platform, when it seemed no other investor would give them the time of day. 
After one chat with Alexi, an old friend, and a BetterUp co-founder, Adam had three takeaways: 
Alexi had thought extensively through the problem and solution when no one else had

Investing in coaching for junior employees has massive ROI for companies

He had to write BetterUp an angel check immediately
Adam invested in the startup with a $5 million cap. Today, the company is worth over $4.5 billion – yielding a 900x ROI on Adam's initial investment principal.
"Frankly, if you make founders feel comfortable, they give you more than the typical bullshit. You hear the real challenges and their real problem-solving skills."
---